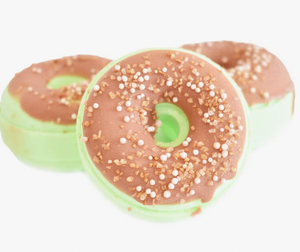 Amazing blend of luscious Green Apples, creamy Caramel, Cinnamon, and Brown Sugar. The perfect blend of tart, sweet, with a hint of spice. This will be a favorite among men and women.
Topped with cocoa butter drizzle, tapioca pearls, and sea salt.
Create the total relaxing spa experience at home with Indulgence's luxurious bath bombs. Loaded with skin loving Cocoa Butter, Grape-seed Oil, Avocado Oil, and Epson Salt. Fill your tub with warm water, drop in the bath bomb, sit back and relax. What a wonderful way to end a stressful day.